FCC Certification
About HTW Lab:
HTW will help you attain FCC Certification in less than half the time it takes the Federal Communications Commission (FCC). The Federal Communications Commission (FCC) is an independent government agency, overseen by the U.S. Congress, responsible for implementing communication laws and regulations throughout America as well as enforcing them. 
For technical regulation support, technicians at HTW are able to help you understand technical regulations and product design specifications.
Communicate with our experts to determine your needs and we will provide you with an evaluation, proposal and quotation.
What is FCC Certification?

Manufacturers who wish to sell telecom, licensed RF, and low powered transmitters in the United States must have their products tested by FCC listed or accredited lab and certified by the FCC for EMC/Telecom compliance. We provide independent FCC certification and testing services that will help get your products to market faster, enabling greater sales and revenue potential overall.
Radio Frequency (RF) devices are required to be properly authorized under 47 CFR part 2 prior to being marketed or imported into the United States.  The Office of Engineering and Technology (OET) administers the equipment authorization program under the authority delegated to it by the Commission.  This program is one of the principal ways the Commission ensures that RF devices used in the United States operate effectively without causing harmful interference and otherwise comply with the Commission's rules.  All RF devices subject to equipment authorization must comply with the Commission's technical requirements prior to importation or marketing. 
Equipment that contains an RF device must be authorized in accordance with the appropriate procedures specified in 47 CFR part 2, subpart J as summarized below (with certain limited exceptions).  These requirements not only minimize the potential for harmful interference, but also ensure that the equipment complies with the rules that address other policy objectives – such as human RF exposure limits and hearing aid compatibility (HAC) with wireless handsets.
The Commission has two different approval procedures for equipment authorization – Certification and Supplier's Declaration of Conformity (SDoC). The required procedure depends on the type of equipment being authorized as specified in the applicable rule part. In some instances, a device may have different functions resulting in the device being subject to more than one type of approval procedure. 
Why Choose Us?
HTW Lab, accredited by CNAS, CMA, CNCA & A2LA, consistently operates competently and generates accurate and valid results in accordance with ISO/IEC 17025. We are also IECEE CB Scheme Test Laboratory (CBTL). Thus, testing reports from HTW Lab can be accepted between countries.
FCC certification and reports accepted by these countries:

Your Benefits At A Glance:
1.20 Years Of Experience
HTW has extensive experience in all types of devices and regulatory requirements across markets. 
2.Provide Free Modification Service Program
Together with our wealth of knowledge in complex regulations globally, HTW provides a complete suite of testing solutions according to your needs including free Modification service.
3.Save time to global markets
With over 7,000 square meters of labs, HTW offers the best testing cycles and you don't have to wait in line, HTW offers 1-on-1 service.With our in-depth insight of global product quality and regulatory requirements, HTW can optimize your costs and minimize your time to market.
4.Complete qualifications
ISO/IEC 17025 lab, accreditated by CNAS, CMA,A2LA,GLP.
5.Competitve price
located in China ,Testing costs are lower than other labs.
We're Here for You

We're based in China but regularly work with clients globally. We will get back to you in 1 working day.
Our Business Hours: 
8.30am - 5.00pm in CST (UTC/GMT+08:00) Monday - Friday 
Email:
Kindly tell us 'how did you hear about us'.
HTW Testing and Certification Solutions.
Sample Requirements
The samples should be provided safely with standard shipping status. Please provide the samples with sterile barrier packaging if the product is planned to sell under sterile conditions. Have a question about product testing and certification?
Email us at sales@htwlab.com. If possible, kindly tell us 'how did you hear about us'.
Service Procedure
1. Provide us with product pictures, product brochures/manuals
2. Determine your needs(test report purpose/ test itmes/ standards)
3. Receive the testing/compliance service proposal and quotation
4. Sign contract and make payment
5.Send samples (please contact us for address info.)
6.Informed project opening and test TAT(turn around time) via email
7.Testing
8.Draft report for your confirmation
9. Formal reports endorsed by ILAC - CNAS (electronic version)
10.Sample Discard or Return
Our Accreditation and Cases
HTW Lab - Since 1980, specialise in IoT & wireless device testing. We work with you and grow your business. Kindly check our accreditation: ISO/IEC 17025 Accredited - CNAS: L1225; A2LA: 3902.01; FCC: 762235; IC: 5377A. In addition, login to FCC official website, find and click on 'Test Firm', search for 'HUATONGWEI' to see our cases on record (1655 Applications can be Found). Follow us on YouTube, you can find the step-by-step instruction - HTW Lab FCC Certification.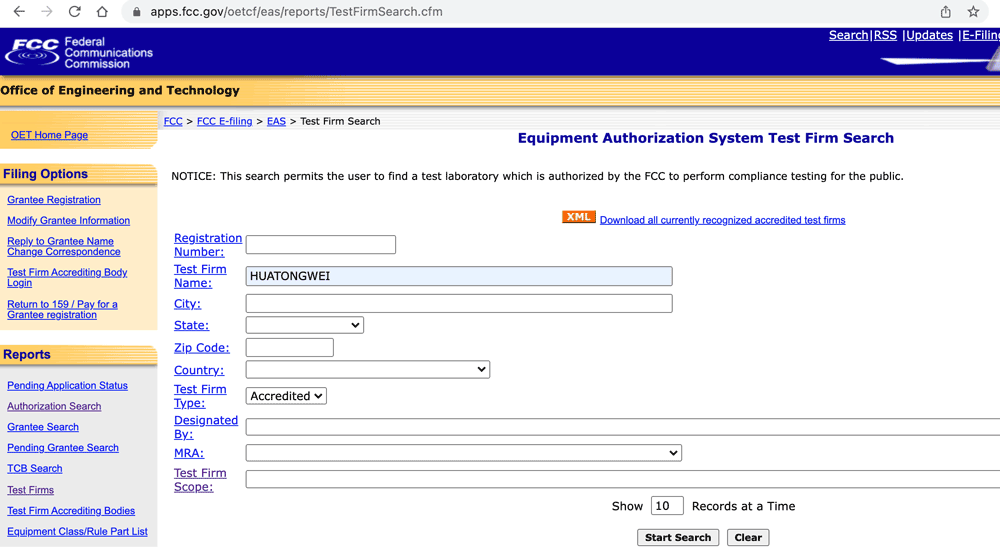 7 steps to Obtain an Equipment Authorization
Step 1 – Determine FCC Rules that Apply
Determine if device is a Radio Frequency (RF) device subject to the FCC rules.
Determine all applicable technical and administrative rules that apply to the device requiring an equipment authorization.
The technical requirements are generally specified in the applicable FCC rule parts and the administrative rules are specified in 47 CFR part 2, subpart J.
Step 2 – Equipment Authorization Procedures
If a device is subject to FCC rules, determine the specific type of equipment authorization that applies to the device. Become familiar with all the basic marketing, equipment authorization, and importation rules. In some instances, a device may have different functions resulting in the device being subject to more than one type of approval procedure.
Determine the applicable equipment authorization procedure for your device.
Supplier's Declaration of Conformity (SDoC)/Certification
Step 3 – Compliance Testing
Perform the required tests to ensure the device complies with the applicable technical requirements (as determined in step 1).
The qualifications of the testing laboratory used to demonstrate compliance is based on the approval procedure you are required to use (as determined in step 2):
Supplier's Declaration of Conformity (SDoC)
Equipment approved using SDoC is required to be tested, however, it is not necessary to use an FCC-recognized accredited testing laboratory. However, as minimum the testing laboratory used is required to maintain a record of the measurement facilities as specified in Section 2.948 and a record of the measurements made as specified in Section 2.938.
Certification
Equipment approved under the Certification procedure is required to be tested by an FCC-recognized accredited testing laboratory. [For a list of currently FCC-recognized accredited testing laboratory see https://apps.fcc.gov/oetcf/eas/reports/TestFirmSearch.cfm]
Step 4 – Approval
After the testing is complete and your device is found to be in compliance, finalize the approval process based on the applicable approval procedure:
Supplier's Declaration of Conformity (SDoC)
The responsible party, as specified in the rules, warrants that each unit of equipment complies with the applicable FCC rules.
The responsible party maintains all of the required documentation demonstrating compliance with the applicable FCC rules.
The responsible party prepares a compliance information statement to be supplied with the product at the time of marketing.
Certification
The responsible party, typically the manufacturer, obtains an FCC Registration Number (FRN) for a device requiring Certification. The FRN is a 10-digit number used to identify the individual or organization doing business with the FCC. The same FRN will be used for future approvals.
After obtaining an FRN, the responsible party obtains a Grantee Code from the Commission by applying at the Grantee Registration website. A grantee code is required the first time a party applies for certification, and can be used for all future approvals.
The responsible party files with a Telecommunication Certification Body (TCB) an application for a grant of certification. An application for equipment authorization requires submission of information about the product, as listed in Section 2.1033. The applicant must submit the required information to a TCB for review as part of the certification process.
The TCB reviews all of the supporting information and the evaluation results to determine if the product complies with the FCC requirements. Once the TCB makes a decision to certify the product the supporting information is uploaded to the FCC Equipment Authorization Electronic System (EAS) – Database. A grant of certification is issued by the TCB on the FCC Equipment Authorization Electronic System (EAS) – Database.
Step 5 – Label/Manual/Record Retention
Label the product and provide the required customer information.
For more information see Labeling Guidelines – KDB Publication 784748.
Maintain all documentation as part of the responsibility for the retention of records and ensure that the manufactured products are in compliance. Section 2.938 – Requirements for the retention of records of equipment subject to FCC approval.
Step 6 – Manufacture/Import/Market
When importing products into the United States, follow the FCC importation requirements.
Importation – Frequently Asked Questions.
Marketing of radio frequency devices prior to equipment authorization.
NOTE – Determining all applicable technical and administrative rules requires a technical understanding of the electrical functions of the device and an understanding of the FCC rules. For assistance, we recommend that you work with one of the FCC recognized accredited testing laboratories or TCBs. Questions can also be submitted through the Knowledge Database (KDB).
Step 7 - Modifications to approved products
Changes to your product design may require an additional approval. KDB Publication 178919 gives general guidance when making changes to a previously approved product. See the permissive change rules in Section 2.1043 for:
Modifications that may be made to an RF device without filing for a new equipment authorization;

Three different types of permissive changes; and identifies when a permissive change filing with the Commission is required.