Biocompatibility Testing for FDA (ISO 10993 1-33 Testing)
Biocompatibility Testing For Medical Devices- Based on ISO 10993 Series Standards
About HTW Lab:

HTW lab provide professional Biocompatibility testing services that will help get your products to market faster, enabling greater sales and revenue. ISO 10993 Testing, such as Sensitization, Irritation, Cytotoxicity, Bioburden Test, etc.
For technical regulation support, technicians at HTW are able to help you understand technical regulations and product design specifications.Communicate with our experts to determine your needs and we will provide you with an evaluation, proposal and quotation.
Our Services At A Glance:

ISO 10993 1-33. 2018 biocompatibility testing.pdf
We evaluate the biocompatibility of your medical devices in line with ISO 10993. Risk based selection of required tests, preparation of a final report.

Testing We Support:

1. In Vitro Cytotoxicity Test

2. Sensitization Test

3. Skin And Intradermal Irritation Test

4. Cytotoxicity Test

5. Subacute Systemic Toxicity Test

6. Evaluation and testing within a risk management process

7. Muscle implantation test

8. Bioburden Test

9................................




 (Learn more ⬇⬇⬇)

Product We Test:

1.  Active Products: 

Diagnostic equipment, 

Treatment Equipment

2. Non-active Products:

 Surface Contact Apparatus,

 External Access Device,

 Personal Protective Equipment, 

 Implanted Devices

 3........  




(Learn more ⬇⬇⬇)
What Is Biocompatibility Testing For Medical Devices?
An integral part of biological risk assessment, biocompatibility testing assesses the compatibility of medical devices with a biological system. it studies the interaction between the device and the various types of living tissues and cells that are exposed to the device when it comes into contact with patients.
The goal for all medical device manufacturers is to provide maximised benefits to patients while minimising levels of biological risks. This requires them to comply with stringent biocompatibility testing requirements set by international regulatory bodies to ensure that their devices are medically safe to use before being made available in the market.
Ensure Patient Safety With Biocompatibility Testing:
In the medical field, practitioners utilise a range of devices to address patient health, from diagnosis to surgery. When the patient comes into contact with a medical device or material, it should fulfil its intended function without inflicting any harm to the patient.
Therefore, all medical devices need to undergo a thorough biological risk assessment to protect the patient from any toxic, physiological, immunogenic or mutagenic effects from the device. This can be achieved with biocompatibility testing.
Why Choose Us?
HTW Lab, accredited by CNAS, CMA, CNCA & A2LA, consistently operates competently and generates accurate and valid results in accordance with ISO/IEC 17025. Our lab meets the requirements of Good Laboratory Practice (GLP) and provides product testing service in accordance with national and global standards for both active and non-active medical devices. We are also IECEE CB Scheme Test Laboratory (CBTL). Thus, testing reports from HTW Lab can be accepted between countries.
How Can We Help You?
HTW Lab has a full range of capabilities for biocompatibility testing in accordance with ISO 10993 (Biological Evaluation of Medical Devices). Talk to our experts about biocompatibility testing for medical devices such as personal protective equipment(PPE), disposable medical products, dental materials, and surgical instruments. (cytotoxicity testing, irritation testing, sensitization testing, skin allergy testing, etc.)
Your Benefits At A Glance:
1.20 Years Of Experience
HTW has extensive experience in all types of Medical devices and regulatory requirements across markets. 
2.Provide Free Rectification Service Program
Together with our wealth of knowledge in complex regulations globally, HTW provides a complete suite of testing solutions according to your needs including free Modification service.
3.Save time to global markets
With over 7,000 square meters of labs, HTW offers the best testing cycles and you don't have to wait in line, HTW offers 1-on-1 service.With our in-depth insight of global product quality and regulatory requirements, HTW can optimize your costs and minimize your time to market.
4.Complete qualifications
ISO/IEC 17025 lab, accreditated by CNAS, CMA,A2LA,GLP.
5.Competitve price
located in China ,Testing costs are lower than other labs.
We're Here for You:

We're based in China but regularly work with clients globally. We will get back to you in 1 working day.
Our Business Hours: 
8.30am - 5.00pm in CST (UTC/GMT+08:00) Monday - Friday 
Email:
Kindly tell us 'how did you hear about us'.

HTW Testing and Certification Solutions.
Standards We Test To
Non-active | Biocompatibility
Number

Project

Standard

1.

Evaluation and testing within a risk management process

ISO10993-1 , G B16886.1

2.

Ethylene oxide sterilization residuals (ETO,ECH,EO)

ISO10993-7 , G B16886.7

3.

In vitro cytotoxicity test

ISO10993-5 , G B16886.5

4.

Sensitization test

ISO10993-10 , GB16886.10

5.

Skin, intradermal and oral mucosal irritation test

ISO10993-10 , GB16886.10

6.

Irritation test

ISO10993-23

7.

Acute systemic toxicity test

ISO10993-11 , GB16886.11

8.

Subacute systemic toxicity test

ISO10993-11 , GB16886.11

9.

Subchronic systemic toxicity test

ISO10993-11 , GB16886.11

10.

Chronic systemic toxicity test

ISO10993-11 , GB16886.11

11.

Material-mediated Pyrogens

Test

ISO10993-11 , GB16886.11

12.

In vitro Mammalian

Chromosome Aberration Test

ISO10993-3 , GB16886.3,ISO10993-33

13.

Micronuclear test

ISO10993-3 , GB16886.3,ISO10993-33

14.

In Vitro Mammalian Cell Gene Mutation Test

ISO10993-3 , GB16886.3,ISO10993-33

15.

Ames test

ISO10993-3 , GB16886.3,ISO10993-33

16.

Thrombogenesis test

ISO10993-4 , GB16886.4

17.

Coagulation test

ISO10993-4 , GB16886.4

18.

Platelet adhesion test

ISO10993-4,GB16886.4

19.

Complement activation test

ISO10993-4,GB16886.4

20.

Hemolysis test

ISO10993-4,GB16886.4

21.

Muscle implantation test

ISO10993-6,GB16886.6

22.

Subcutaneous implantation test

ISO10993-6,GB16886.6

23.

Bone implant test

ISO10993-6,GB16886.6

24.

Material characteristic analysis

ISO10993-18




…

…
Sample Requirements
The samples should be provided safely with standard shipping status. Please provide the samples with sterile barrier packaging if the product is planned to sell under sterile conditions. Have a question about product testing and certification?
Email us at sales@htwlab.com.
Service Procedure
1. Provide us with product pictures, product brochures/manuals
2. Determine your needs(test report purpose/ test itmes/ standards)
3. Receive the testing/compliance service proposal and quotation
4. Sign contract and make payment
5.Send samples (please contact us for address info.)
6.Informed project opening and test TAT(turn around time) via email
7.Testing
8.Draft report for your confirmation
9. Formal reports endorsed by ILAC - CNAS (electronic version)
10.Sample Discard or Return
(Below is our Biocompatibility Testing Fee Quote Template)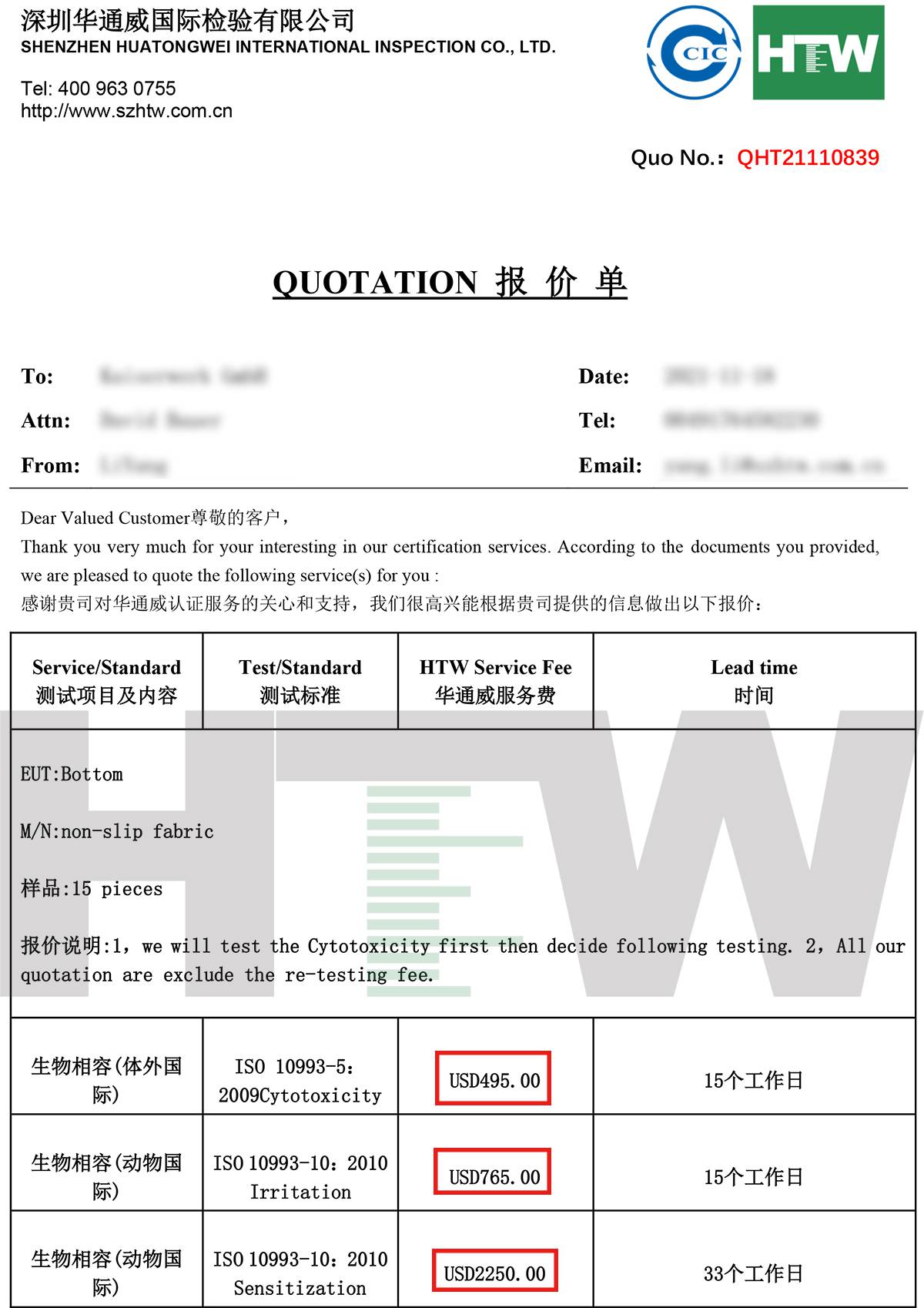 Biocompatibility Testing for Medical Device
Class I, II, and III Medical Devices Testing and Certification
Patient Monitoring Devices Testing

Wireless Medical Device Testing
Cardiovascular Device Testing
Chemical Analysis for Medical Device Components
Medical Device Packaging Validation
Physical Testing of Medical Devices and IVD Equipment
Electrical Safety Testing (IEC 60601-1)
EMC Testing for Medical Devices
Functional Safety Testing of Medical Devices
Wireless Testing for Medical Devices
In Vitro Diagnostic Medical Devices Testing

Contact us to learn more about our orthopedic implant testing, cardiovascular device testing, biocompatibility testing, medical device packaging validation, radio frequency testing, EMI & EMC testing and others.
Other Testing and Certification
Biocompatibility Testing for Dental Materials

Mechanical Testing of Materials in Devices and Packaging
Chemical Analysis for Medical Device Components
Packaging Materials and Packages testing
Medical Device Materials Testing
Consulting Service
Consulting Service

Preliminary Product Development Regulatory Guidance
Product Technical Requirements Review Service
Clinical Evaluation
Plant Construction Consulting
Quality Management System Construction
Domestic Registration/Global Market Access
China NMPA (CFDA)
US FDA (Listing, 510k)
EU CE
Brazil ANVISA (INMETRO, ANATEL )
Australian TGA
Canadian CMACAS
UK UKCA